Ibec Academy | News and Emerging Trends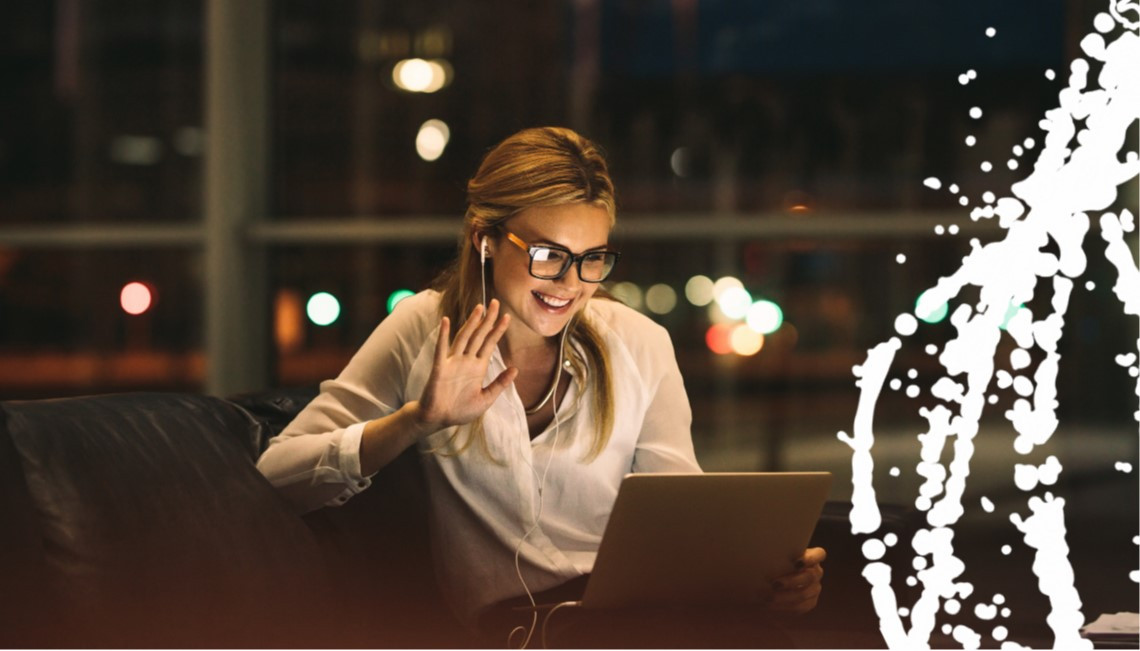 Social wellbeing and the trade-offs of remote working
26 Nov 2021
"Man is by nature a social animal" Aristotle.
The impact of Covid-19 has been challenging and far reaching with repercussions at a health, economic, familial and societal level. No aspect of normal social functioning has been exempt. For many it has brought about the most significant and swift change in work patterns globally, with some commentators calling it the largest remote working experiment in history. As sectors have shut down and we have physically distanced ourselves from family, friends and colleagues, the practicalities of living and working differently have become routine, albeit not without their difficulties.
The primary focus of transitioning to remote working for most organisations has been on the practicalities of tools and technologies to support collaboration and productivity as the workday has been reimagined. However, while these technologies have kept people working productively, and the immediate health benefits of avoiding common workspaces and venues are obvious in the face of a pandemic, it is important to consider the mental health and wellbeing consequences that can emerge with this changed behaviour.
Difficulties are appearing at a physical, mental and emotional level as the mixture of competing priorities, personal concerns, economic strains and other challenges have begun to take a toll on the wellbeing of many. A survey by Mental Health First Aid on the impact of remote working during the pandemic, found that while more than half of the respondents loved the autonomy of working from home, and felt more motivated (34%), this was countered by the impact on their mental wellbeing. Some reported loss of sleep due to worry (40%) and half said they experienced more fatigue than usual, 24% admitted to drinking more alcohol, almost a third were eating a less healthy diet and 40% exercising less, with 40% reporting poor wellbeing and frequently feeling isolated working at home (33%). Other research finds that 70% of employees consider this to be the most stressful time of their careers. In particular, the social wellbeing of individuals has become a real issue as many report loneliness as one of their biggest struggles in working this way.
Social wellbeing is our ability to make and maintain meaningful positive relationships and regular contact with other people in our world. It is one of the components of mental health (along with psychological and emotional wellbeing) and affects how we think, act and feel. As humans we rely on connections with other people to feel happy and healthy in life. Friendship, connection, social interaction and a sense of belonging are basic ingredients for a positive sense of wellbeing and reduced stress. We have an innate need to be connected to others and to belong. We build our social wellbeing and feel valued through our interactions with people, our connections at work, in the community and in our personal lives.
Why this is important issue for employers?
To be a high performing organisation your employees need to be high performing, which means they need to be mentally and physically well. An important aspect of that wellbeing, our social wellbeing, is feeling connected to other people. In the workplace, connection is not only essential for team coherence around tasks but creates a sense of belonging and investment in the organisation. Such positive social relationships strengthen employee retention and productivity, positively impacting the bottom line. Research has found that people who work in an organisation typically spend 8% of their time socialising, and when people are not together, they miss the ad hoc moments of connection and casual interaction along with the sense of belonging it provides. Socialising amongst employees should not be considered a 'nice-to-have', or even a bonus of the organisations culture, as it has real positives for the individual and the organisation.
Encouraging employees to have informal conversations and providing them with both the time and tools to do so is essential for their sense of belonging in the organisation. Gallup's research has repeatedly shown a "concrete link between having a best friend at work and the amount of effort employees expend in their job." When employers meet their workers' needs for social wellbeing, the result is higher levels of engagement and productivity, performance and retention, morale and quality of work.
The converse also exists, and if social wellbeing suffers so too can engagement, creativity, decision-making and innovation, which if left unchecked can result in burnout. This is currently a real risk as social distancing and remote work have severed many social connections or disrupted the interactions that occur effortlessly in the workplace normally. This absence has an impact on the loneliness, isolation, and overall wellbeing of individuals. While not mental health issues in their own regard, when they become chronic; loneliness and social isolation contribute to mental health conditions including anxiety and depression. To put it in context, loneliness has the same impact on mortality as smoking 15 cigarettes a day in health terms. Research carried out in this area found that by April 2020 the prevalence of loneliness had more than doubled since 2018 among 18- to 34-year-olds in Ireland (Psychological Society of Ireland).
Trade-offs
While this way of working offers flexibility and for many, increased quality of life, when coupled with increasing levels of social distancing and isolation many of the trade-offs have been overlooked. In responding urgently to the pandemic, we failed to acknowledge that while we could move our meetings to virtual platforms and work flexible hours or locations to adjust to safety, care, home-schooling and space needs, we might also need to consider the far-reaching impact on people. In the past, even in teams where some worked remotely a few days a week or in different locations some of the time, most also came together to build social connections in person, something that is not possible now. This does not mean we should not work remotely or differently but it does require us to consider how we can compensate for the negative elements or the trade-offs. Failure to do that would see us pursue a path of efficiency at the expense of relationships and social wellbeing which over time can contribute to burnout, disconnection and a decreased sense of belonging.
Many employers have stepped up or introduced wellbeing initiatives in their organisation since the pandemic began demonstrating how employers are understanding the critical role they can play around mental health and wellbeing. However, it is timely for a more considered and tailored approach to the supports we offer which go beyond the basics of online training and Zoom meetings, to focus on social wellbeing prioritising connection and social cohesion. While these tools are a great start, we now must think about ways to incorporate more connection and authentic experiences into employee engagement programmes and initiatives. If we appreciate the potential negative impacts of working remotely in a crisis and create the awareness needed, then preventative measures can be introduced, individuals can ask for help and employers can feel empowered to provide the support and wellbeing initiatives required. This needs to be a priority for leaders. Even after we return to the physical workplace, our experience of connection will have changed, and so new approaches will be needed to foster healthy engagement and relationships at a distance. Failure to do so will result in the repercussions of isolation and burnout being felt in the workplace long after the pandemic is over.
What can we do?
There are a range of things we can do to build social wellbeing in our workplaces by being deliberate in how things are structured to replace the spontaneous and crucial interactions often denoted the "water cooler" moments. Some are likely to be already in place in your organisation, while others we can learn from organisations who have been working remotely for some time.
1. In this together
Creating moments of togetherness are key to building and reinforcing the culture in the organisation. This can take the form of regular check-ins on wellbeing outside work-related conversations. Having recurring town halls or all-staff briefings connects employees to what is happening across the business, helping them feel part of something bigger and worthwhile. The more staff can take an active part in these meetings the better, as it can foster a sense of collective ownership and the employee feels they have a voice in where the organisation is going.
2. Informal communities
It is important that we build sustainable, virtual communities for employees driven by employees as a way for our teams to connect with each other informally and digitally. This can be done with a focus on common interests to help cohesiveness and strengthen the bond between colleagues. It also helps to integrate newcomers and build connections across departments and levels breaking down silos and increasing interdepartmental communication. Some employers have created internal blogs where shared interests and things employees have in common can be discussed. This has ranged from gaming, photography and music to pets and parenting, allowing people to engage in a more informal personal way with colleagues.
3. Foundation blocks
One of the foundation blocks to social wellbeing is self-care. Exercise, keeping a normal routine, and communication are listed as the three go-to remedies for lowering stress levels, especially for those in pandemic-fuelled lockdown or general isolation while working away from the office. Encouraging healthy eating, exercise and rest and ways of managing of stress are key to feeling mentally and physically strong. In turn this supports the maintenance of strong relationships as individuals have the energy to engage. Employers can sustain this through a culture of wellbeing awareness regarding the importance of routines as well as offering mindfulness, yoga or resilience programmes to bolster the workforce.
4. Team challenges
Such supports can build into team challenges to bond people around the "couch to 5k" or "step challenges" and can bring both camaraderie and engagement around a common goal that has nothing to do with work, as well as emphasising the need to disconnect and build balance into the way we are working differently. Building in a check-in element whereby pictures of the route people ran or how they are doing with the challenge on the intranet or through channels like Yammer allows people that informal connection.
5. Gestures
Many organisations typically marked holidays or events in the workplace in a way that connected their employees including birthdays, long service awards and retirements. Now as we are working differently many are choosing to make a gesture by sending employees a care package such as a Christmas hamper or easter egg or equivalent that boosts morale.
6. New entrants
Finally, new entrants to an organisation can struggle to settle in and may feel isolated when trying to adjust to a new culture. Restructuring the employee onboarding and ongoing employee engagement is essential to ensure people connect and feel part of the team. This has included bringing formality into informal engagements to allow people to meet, such as introducing buddy programmes. This entails new staff members being given a buddy within the existing staff body who helps them settle in by introducing them to colleagues, encouraging their engagement on initiatives and checking in with them over a weekly virtual coffee.
In sum
The 'social experiment' that is remote working in a pandemic has positives and negatives for employees and employers. However, we can offset the negatives of isolation and loneliness through a culture that prioritises belonging and forms interpersonal bonds with intent. This will enable our workforce to feel they are connected and part of the organisational culture even at a distance. It gives us the best chance for engagement, camaraderie and collaboration, and a competitive advantage in this new era of work. The alternative is a failure to act resulting in the mental draining and poor social wellbeing of our most important resource, our people.
Dr Kara McGann, Head of Social Policy, Ibec